Product Description
POWER SHAVE FOR MEN - Treatment for Ingrown Hairs, Razor Bumps, Burns, Rashes & Skin Redness

Power Shave is a light gel formulation designed to reduce irritation, inflammation, soreness, redness, ingrown hairs and razor bumps normally experienced after shaving.
Developed in 2001 by an African American pharmacist and a former master formulator for Estee Lauder, Power Shave is one of the most effective products for treating and preventing hair removal irritations. It is undoubtedly one of the finest treatments available with thousands of loyal customers worldwide.

Use after hair removal and in particular after wet or dry face shaving to quickly treat and prevent all forms of unsightly and uncomfortable hair removal irritations on face and body areas like the beard, neck, chest, legs and underarms.
Designed to:
reduce irritation

inflammation

bumps

itchiness

ingrown hairs normally experienced after hair removal.
ALL YOU REALLY NEED TO KNOW IS THAT IT WORKS!
Use after razor shaving, waxing, electrolysis, depilation or laser to quickly treat and prevent all forms of unsightly and uncomfortable hair removal irritations on face and body areas.
Power Shave is the optimum post hair removal treatment with a strong pedigree.
Power Shave contains mild but very effective antiseptic and anti inflammatory ingredients which treat and prevent the formation of bacteria after hair removal.The anti-inflammatory /anti-irritant system instantly blocks the introduction of bacteria into the broken skin and thus eliminates inflammation that leads to itchy red razor bumps (Pseudofolliculitis Barbae), shaving rash and ingrown hairs, along with swelling and itching.
Works instantly and results are often seen in 1-2 days of treatment.
Size : 2oz / 59ml or 4oz / 120ml

PROUDLY Made In The USA
Ingredients:
Isopropyl Alcohol, Alcohol Denat. SD, Alcohol 40-B, Propylene Glycol, Glycerin, Acetysalicylic Acid, Aqua, Hydroxypropyl Guar
NOT RECOMMENDED FOR ANYONE SUFFERING FROM ASPIRIN ALLERGY - THIS PRODUCT CONTAINS ASPIRIN
Click here to view related product: Priva Shave for Women
An Ingrown Hair / Shaving Bump Treatment You Can Trust to Work!
Few things are more embarrassing than a shaving rash on your face, razor bumps or ingrown hairs. This supposedly inescapable problem now has a cure! Power Shave guarantees to make all your shaving experiences easy and trouble-free.
Powerful enough to work instantly but gentle enough for use on sensitive areas like a man's face. Power Shave works wonderfully for men. You can apply Power Shave directly on your face after shaving to eliminate shaving bumps/rash. You'll find it works immediately and consistently.
Note: Power Shave uses Isopropyl Alcohol as an antiseptic. This antiseptic prevents the introduction of bacteria into the skin due to the shaving process. Power Shave also has anti-inflammatory agents (Acetysalicylic acid) that reduce the formation of papules and pustules. Acetysalicylic acid is a key ingredient in many skin-care products for the treatment of acne, psoriasis, calluses, and other dermatological problems. It prevents the pores from clogging up and allowing for new cell growth.
Furthermore, emollients (propylene glycol and glycerin) in Power Shave help to control the moisture exchange between the skin and hair and assists in softening the skin. These prevent dryness and scaling of the skin.
The anti-inflammatory/anti-irritant system in Power Shave Post Shave Treatment is highly effective in reducing inflammation that results from the irritating process of hair removal. It is perfect to use on the face and by anyone who has sensitive skin.
How Does Power Shave Work?
Unlike other formulas on the market, Power Shave is the original… and the best. Simply apply this soothing, gel-like liquid to your skin directly after any hair removal technique (shaving, waxing, electrolysis, plucking, using depilatories, etc). The anti-inflammatory /anti-irritant system instantly blocks the introduction of bacteria into the broken skin and thus eliminates inflammation that leads to razor bumps, shaving rash and ingrown hairs along with swelling, itching and discoloration.
People often ask what the difference is between Power Shave and other treatments? Well, Priva Shave is:
Developed from over a decade of research.
The original formula - developed by a company with a long history in this specialised field.
Formulated jointly by a pharmacist and a former Estée Lauder chemist.
Created with a gel-like consistency rather than a thin, runny liquid, to stay on your skin longer for maximum results.
Designed for long shelf life - instead of a rapid expiry date - giving you the best value for your money.
Other ways to Help your Skin
If you have problematic or sensitive skin, you will really benefit from the fantastic Skin Deep Moisturiser cream. Skin Deep Moisturiser is a truly unique skincare product, with absolutely the best ingredients for your skin at a really affordable price. Use before shaving to soften the skin, after shaving to heal the skin and while shaving to give a smooth, pain free shave. Perfect for use on the delicate facial areas, but also superb as a healing moisturiser.The secret to this cream is its high concentration of Grape Seed Oil which is 15,000 times more effective than Vitamin E! We highly recommend the Skin Deep Cream for both men and women - it's quite simply a must have, no nonsense product for people who care about their skin.
For Men
Power Shave® For Man is 100% Money Back Guaranteed to eliminate all of the following unsightly problems:
Razor Burns
Razor Bumps
Ingrown Hairs
Tissue Swelling due to inflammation due to razor shaving
Skin Reddening due to razor irritations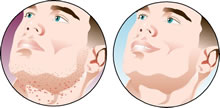 The unique anti-inflammatory and antiseptic agents contained in this product prevent the introduction of skin surface as well as air borne germs into the pores and opened skin abrasions due to the shaving process.
Power Shave works instantly to prevent tissue inflammation which in itself will prevent skin tenderness, skin reddening, hair follicles swelling and the fleshy red mass (the bump, the fleshy raise) will not form. Thus no hairs will become entrapped and ingrow. Unlike many competing products, Power Shave will not cause excessive drying of the shaven skin surface, because it contains special emollients and rehydrators (including Chamomile Oil).
By using Power Shave after each and every shave, you will no longer experience that unsightly and uncomfortable skin irritations.
Instructions for Use:
After shaving, be sure to rinse all soap film from skin with warm water, leaving the face squeaky-clean and towel dry. Pores should be clear open and clean for maximum effect. Pour a small (50 pence coin size) amount into the palm of your hand and evenly spread thin layer over the entire shaved area immediately after shaving. For best results, shave close daily and repeat application after each and every shave.
For Women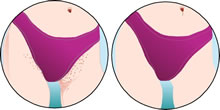 Priva Shave for Woman has been carefully designed to render maximum post shave comfort to ladies having a hair removal procedure performed on their bikini lines, legs, under arms, fore arms eye brow as well as their upper lip via the following hair removal methods:
Razor Shaving
Electrolysis
Epilation
Complete Cosmetic Make Up
Hot or Cold Waxing
Instructions for use:
After hair removal, apply a small layer of Priva Shave on the affected area. Priva Shave will work quickly and effectively to treat and prevent all unsightly hair removal irritations
Priva Shave Magazine Reviews
The following FLASH presentation displays all the magazine reviews that PrivaShave has received in the U.K. Use the green navigation buttons at the bottom of the screen to scroll through all reviews.
Product Efficacy
Priva / Power Shave has a unique anti-inflammatory/anti-irritant system coupled with a very effective antiseptic system. The anti-inflammatory /anti-irritant system is highly effective in helping to reduce the normal intense inflammation that results from the irritating process of hair removal. Together these two systems helps to prevent the introduction of bacteria into broken skin and block the normal inflammatory process. The system helps to reduce swelling and soreness, scars, skin discoloration and annoying itching resulting from shaving pubic hair. Because of this formulation, Priva / Power Shave will give you smooth, soft skin...After the irritating shaving process.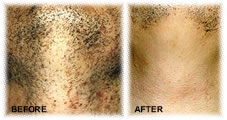 Pathological Disease
Manifestations of "Ingrown Hairs" related to shaving pubic hair
Inflammation: The body's response to injury. Skin tissue is damaged after the shaving process and it usually causes pain, heat, redness, and swelling. These symptoms occur because blood vessels in the area dilate to bring in extra white blood cells to eat the bacteria and other foreign particles gathering at the site of injury. As a result, dead cells begin to accumulate thus forming papule that turn into pus during the healing process. Any hair in the area gets bound under this formation, cannot exit the skin properly, and worsens the affected area. The hair must be removed to ensure proper and complete healing.
Papule Formation: A small superficial raised abnormality or spot on the skin commonly known as a bump.
Pustule Development: A blister on the skin containing pus.
Bleeding: The rupture of an infected pustule and surrounding blood vessels due to their dilation and close proximity. These vessels are present and in a dilated condition to promote healing.
Micrococci: Colonies or clusters of bacteria that cause abscesses in affected tissue. Their presence cause the body to begin the healing effort by both collecting these harmful bacteria and also by building a wall around the bacteria to prevent further spreading throughout the body.
Leukocyte Count Increases: - The presence of white blood cells increases in a damaged or infected area to protect the body against foreign substances and to help produce antibodies
Hypertrophy and Keloidal Scarring: Skin tissue begins to multiply in response to injury caused by the act of shaving, especially in sensitive areas (e.g. bikini line) thus causing Keloidal scarring. Keloid development is common in a small percentage of the population and is clearly defined as a hard, prominent, irregular shaped scar tissue, in the skin, often increasing in size. Keloidal scarring also usually occurs where healing injuries, burns, or surgical incisions are under tension. For those rare cases the use of Power Shave® "FoR MaN™" & Priva Shave® "FoR WoMaN™" immediately after shaving will prevent the inflamed tissue from progressing to the point of keloidal development.
Epilation: The removal of a hair by its roots. This process is normally done by pulling the hair(s) with tweezers, using wax to strip an area of hair, or by electrolysis.
Note: If bumps are already present, all ingrown hairs must be removed preferably by using tweezers. Then the area should be thoroughly cleaned or scrubbed with a good soap and hot water. Finally, apply enough Priva / Power Shave to cover the entire cleansed area. Let area dry naturally thus allowing the product to soak well into the pores for maximum benefit. Employing this process over a two-day period will eliminate all traces of bumps, swelling and skin reddening.
Ingredients
Anti-inflammatory Agents - Helps to prevents inflammatory response associated with shaving in Pseudofolliculitis Barbae. Helps to reduce inflammation. Helps to reduces papules and pustules formations. Improves shaving pubic hair.
Antiseptic Agents - Helps to prevent the introduction of germs into the scrapes and irritations due to the shaving process.
Humectants - Helps control the moisture exchange between skin and hair and assist in softening the skin through rehydration.
Emollients - Lipophitic ingredients that assist in softening the skin by occlusion into the skin surface.
Product Videos
Custom Field
Product Reviews